BEST DAY PHILADELPHIA: 10TH ANNIV STORYTELLING DAY
Join us for a fun-filled day of storytelling to celebrate 10 years of fighting older adult social isolation and promoting intergenerational engagement. Propel our work into the next decade by becoming an individual, family or corporate sponsor!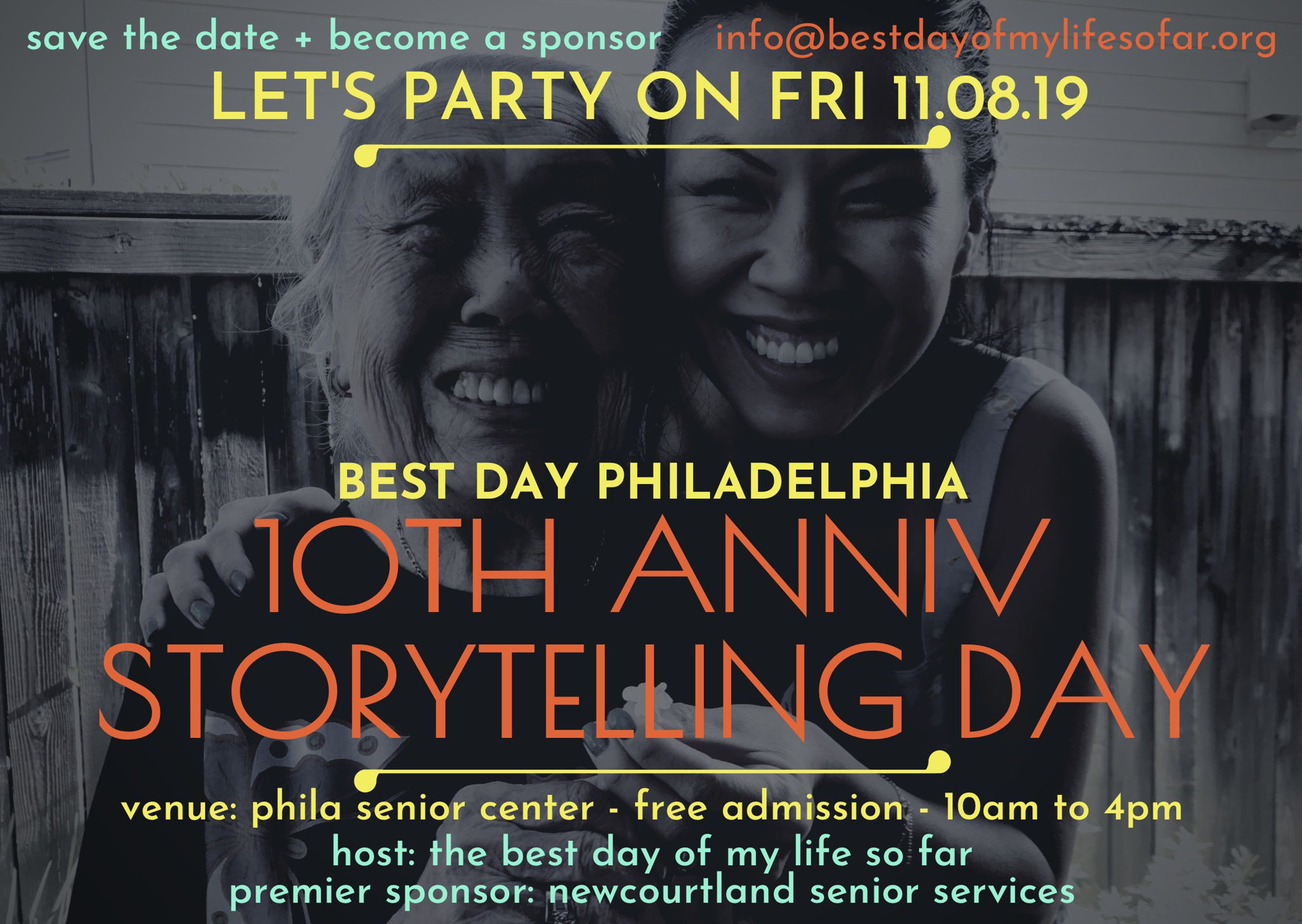 JOIN US ON FRI 11.08.19
TO CELEBRATE OUR FIRST 10 YEARS
TIME AND PLACE
Philadelphia Senior Center
ADMISSION
Everyone is welcome – stop by or stay the whole day!
FEATURING
Intergenerational Storytelling Activities
Live Readings and Video Screenings
Community Photos and Stories
VIP Lunch and Learn **RSVP required, see VIP sponsorship level**
EVENT PURPOSE
This FREE event celebrates 10 years of partnership (so far!) between The Best Day of My Life So Far, Philadelphia Senior Center and NewCourtland Senior Services. Our partnership began in 2009 when 29-year-old Benita Cooper borrowed a table for an hour a week in the basement of PSC to start a small intergenerational storytelling group and blog, armed with only pen and paper, and fueled by the friendship and stories of her grandmother. Originally intended as a six-week workshop, the original Best Day of My Life So Far storytelling group has never stopped meeting since. By empowering older adults to open up and younger volunteers and visitors to listen, the group has turned hundreds of strangers into family, given birth to dozens of satellite groups nationwide, and pioneered award-winning, research-backed, AARP-endorsed methods of intergenerational engagement, active listening and compassionate care. Support from the press has ranged from articles in papers like Philadelphia Inquirer and Courier Post, to features on TV programs such as Erie News Now and ABC News: Art of Aging.
EVENT SCHEDULE
10am-11am
Founder's Welcome / Meet the Storytellers Breakfast
11:15am-1pm
Vendors' Exhibit / Video Watch Party / VIP Lunch and Learn
1:15pm-2pm
Storytelling Conversations / Video Watch Party / Family Sponsor Photos
2:15pm-4pm
Story Wall Unveiling / Thank the Storytellers Tea Time / Family Sponsor Photos
... BUT YOU DON'T HAVE TO WAIT TILL THE BIG DAY TO PARTICIPATE!
1. SPONSOR

our work as an individual, family or business - full details are on this page and we are happy to answer any questions!
2. SUBMIT

an older adult's story with their permission, and a photo of both of you, after sharing a conversation with them: www.bestdayofmylifesofar.org/listen
3. SUBSCRIBE/FOLLOW

for practical listening tips and inspirational stories bit.ly/subscribeforabestday |
@bestdayofmylifesofar on FB, IG | @bestdaysofar on TW
4. SEATS ARE LIMITED - SIGN UP

for our exclusive Lunch and Learn event segment - simply select the VIP Sponsorship Level
5. VOLUNTEER to help with fun yet meaningful tasks before, during or after the event - reach out if you are a high school or college student interested in internship opportunities matched to your career goals
6. EXHIBIT

your company's products and services at our event - simply select the Silver, Gold, Platinum or Premier Sponsorship Level
TO TAKE US INTO THE NEXT DECADE
Individual, family and business sponsorship levels are available

FUNDING PURPOSE
All proceeds from this event and fundraising campaign will benefit The Best Day of My Life So Far. Your support will change the lives of more older adults, bring together more communities, and improve the quality of health and home care. Your scale of impact will be locally focused in Philadelphia, regionally focused in PA and NJ, and national in reach with our network of partner sites as anchors.
We have set up a variety of sponsorship levels, each with meaningful perks, in order to welcome everyone to become a sponsor. We have smaller levels for individuals and families, and various options for businesses looking to make various scales of community impact. Like our programs, we have designed these levels to be as welcoming and inclusive as possible, to empower even the younger members in our communities to step up and help make social change. Our corporate sponsorship options also vary, to welcome businesses of different scales and capacities to participate easily.
To make the sponsorship experience even more meaningful, you can contribute in honor or in memory of a special older adult.
PROVEN IMPACT
"Dear Benita, My name is Lexi Marta and I am a student from TCNJ who collected stories and created a social media campaign plan for The Best Day of My Life So Far. When I was first handed this assignment, I was really reluctant to do it because I felt that I had a close relationship with my grandma (Daisy DiDario) already. However, when I interviewed her, I learned things about her that I never knew before and I suddenly realized how important it was to close that generational gap. My grandmother passed last night, and having done this project now means everything to me. It is a good memory and I'm sure her stories will be shared during her services. Thank you for the work you do and encouraging us to just sit and talk and listen.
"
– Alexis Marta, Student at The College of New Jersey, a Best Day of My Life So Far 10th Anniversary Site
"Before I started attending, I didn't think I would encounter people who would inspire me, relate to me or help me think positively about growing older. Being a part of this group has made me see things in a different light. People, no matter their age, can interact comfortably here and leave every session with a more positive outlook on life. I think the name of the group, 'The Best Day of My Life So Far', aptly describes how I feel about being a member. In the four years that I have been here, I have found some really dear friends and enjoyed listening to their stories, and sharing mine. I hope to continue attending for years to come."
– Joe Garrison, Member of The Best Day of My Life So Far Group at Philadelphia Senior Center

In 2019, our 10th anniversary, The Best Day of My Life So Far has taken our organization to the next level - bringing our training and programming to a greater audience and building out our internal capacity to ensure that we will be around for the next decades to come.
We have spent the last 10 years refining and formalizing our training and programming (into 3 programs shaped to suit different audiences www.bestdayofmylifesofar.org/getinvolved), piloting it at 26 sites in differing types of communities (urban, suburban) serving various demographics of older adults to ensure its replicability, and collaborating with research professionals from various higher education institutions and industry authority AARP to ensure alignment with best practices and our understanding of participant experiences (visit www.bestdayofmylifesofar.org/mission/our-impact)
This year, we have continued our fight to reduce older adult isolation and bring generations together through a tour of 10 cities. Featuring a special city each month from January to October - with partner sites, including three colleges, leading the charge on the ground - we are empowering young people and aging services professionals in all cities across America to reach out and listen to their older family and community members.
The November event is a moment of celebration that culminates this national yearlong tour, as well as a full decade of passionate, steadfast work.
Without your help, our work would not be possible. Thank you so much.
Meet our generous sponsors. We will update this list with every sponsorship we receive.
FOR MORE INFO
LEARN MORE AND LET'S CHAT
EVENT IS BROUGHT TO YOU BY
The Best Day of My Life So Far
Philadelphia Senior Center
NewCourtland Senior Services
And the Generosity of Storytellers and Listeners Like You